Talking about writing projects and the nature of reality.
https://anastasiawasko.com/wp-content/uploads/2022/07/awlogoblack.png
0
0
anastasiawritingediting
https://anastasiawasko.com/wp-content/uploads/2022/07/awlogoblack.png
anastasiawritingediting
2020-02-11 02:03:20
2021-05-17 20:34:29
Etc: Simultaneous Times Interview
https://anastasiawasko.com/wp-content/uploads/2022/07/awlogoblack.png
0
0
anastasiawritingediting
https://anastasiawasko.com/wp-content/uploads/2022/07/awlogoblack.png
anastasiawritingediting
2020-02-11 01:59:02
2021-05-17 20:34:51
Flash fiction: Simultaneous Times Episode 16 With La Incubadora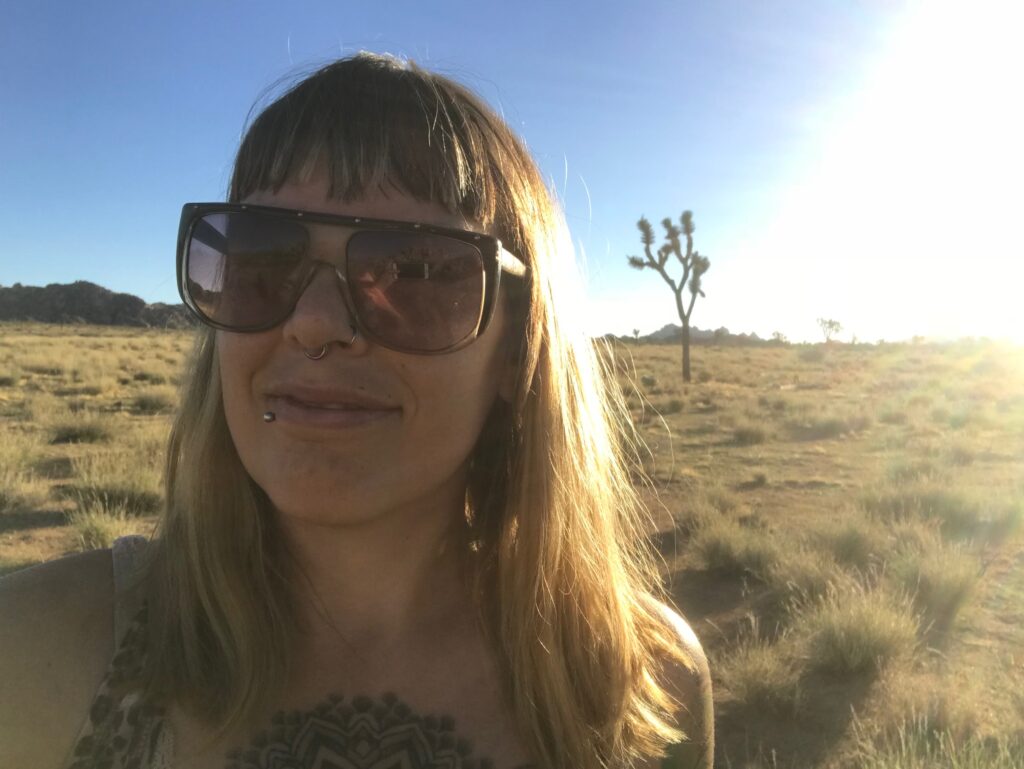 September 2018: As I soon as I got out of my truck and stood for the first time in Joshua Tree village, a small town in southern California where the Sonoran and Mojave deserts meet, I couldn't tell where I stopped and the dry warm air and dusty Earth started.  It felt like the fire inside that had propelled me west all summer had fully engulfed my being.
As I look back over my trajectory from New York City to Los Angeles in the summer of 2018, I see how the sparks became this blaze.
They started before I left my last base camp—Kingston, NY. I had been laying on the makeshift mattress on the floor (everything in Lupe Station, my affectionately named two-bedroom space I had been living in) had been packed. It was early in the morning on my second-to-last day there. I remember relishing the way the sun entered the windows in my bedroom, moved through a teardrop-shaped crystal, cast rainbows aka colorful kisses on everything. The morning gazing ritual was something that I loved to do every day that I lived there.
And that morning, when the space was nearly empty, it  still full: I felt a kinship with the sun, the sweet energy, the strong light.
I had packed my homa fire ceremony kit, and as I laid there considering the dates I had booked to offer public ceremonies, I recognized that I was nervous at the thought of bringing it across the country. Homa is a Vedic fire ceremony for peace. It is cleansing. It is healing across dimensions. Homa involves chanting Sanskrit as ghee (clarified butter) is offered to a small fire that is created in a copper container. I wondered, too, if my teacher Ma Bha (Ma Bhaskarananda), whom I met by going to Ananda Ashram in Monroe, New York (about an hour south from where I lived), would ever know just how much my life had changed by doing the ceremony that I had learned from her years ago.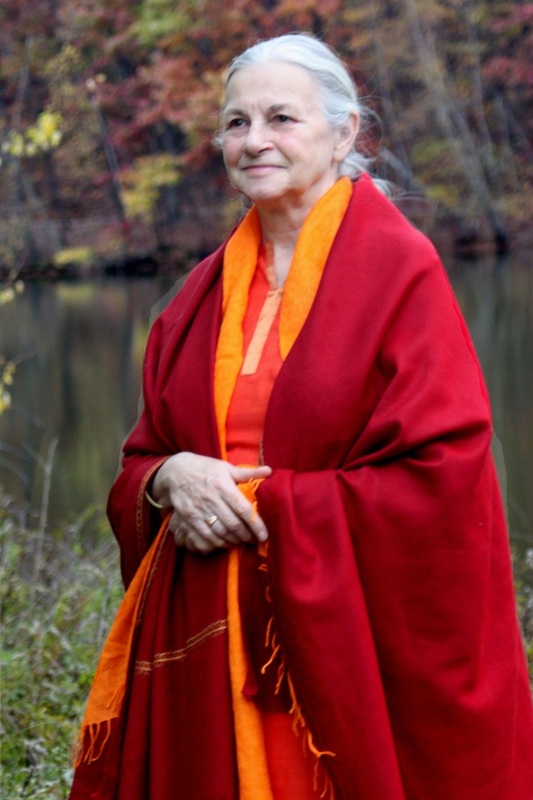 Ma Bha
Later that day, I got an unexpected message from Ma Bha's son. (It wasn't until she died [in 2016] that I realized I knew her son, who happened to be my friend and lived on the street parallel to mine in Kingston. We realized it when he had been posting pics of his mom as I posted pics of my teacher, both honoring the passing of an amazing woman.) He said he had a few things for me. I was a little confused because I didn't know what he would be bringing, but I agreed to receive them. When he stopped by later that night, he gifted me an entire bag of her belongings, including the bag, the one that she used when she went on her own pilgrimage to India. I was moved beyond words. That's the moment I realized how deeply I had connected to the fire and to my teacher, who showed up in this amazing synchronicity. I knew this road trip would be blessed.
It was a day later, as I drove with New York City in my rearview, a setting sun on the horizon, that I realized how the relationship that I have with fire (through the sun and actual thing and also through the creative process and metaphorical thing) is one of the most important relationships I have in my life. I often say at some point during a fire ceremony—"the light that you see in the flame is you, it is your inner light, it is your teacher"—because Ma Bha taught those words to me. So following my intuition to go west was like listening to a voice in me that said grow.
I performed a fire ceremony in June in Columbus, Ohio at the office of the Parapsychological Association (PA). This was a portent of the things to come at the PA conference I was planning to attend in August in California, where science was the framework to understand energy exchange and the interconnected nature of the material world. It was a significant experience because I was going into a space and group of people that was previously unknown to me with a ceremony that was previously unknown to them. Would they feel it, too?
Personal growth, inner life experience, sacred space is all so subjective.
When I performed fire ceremonies at Lupe Station, I did them in a room of my living space that was dedicated to energy work. I also knew many people who came to my ceremonies. I didn't know how the fire would react to the space or the people, or me to the fire in that space. And like any other relationship—when you bring your significant other into new or different of your life, don't you worry what might happen?
The fire ceremony in Columbus went well. In fact, it went really well—I saw how the power of the fire touched them, too. I've kept in touch with some of the folks who attended and have an offer to go back and do it again.
I went west to increase my own understanding about that, learning about my role as a facilitator of energetic exchange. I carefully selected some events and places to stay that would give me opportunities to learn and practice being in this role. My westward course led me to New Mexico, where a planned week-long stay in Albuquerque to complete a seminar at the Ayurvedic Institute turned into a month-long stop.
Ma Bha had spent years there teaching alongside Dr. Vasant Lad, whose direction, teaching, and kindness has helped make the Ayurvedic Institute an authoritative place of Ayurvedic knowledge exchange in the West. Ayurveda offers a holistic frame for the material world, where everything interacts in a series of balance, imbalance, and exchanges. Each time I mentioned that I too had studied with Ma Bha in New York, I was met with exclaims of respect and joy. I sat for several fire ceremonies while I was in Albuquerque, and I also did my first online broadcast of one—spurred by the feedback that some of previous attendees were feeling my lack of ceremonies. I remember my hand shaking as I lit the ceremonial fire in the kitchen of the apartment I had rented. I was nervous. I wondered if it would "work" over the Internet.
But again, as it did in Columbus, my friend showed up. The people who were at the online ceremony (physically across the country) felt the benefits, as if we were sitting together.
There was fire in me indeed. This simple, enriching ceremony gave (and gives) me the ability to feel the fire inside and use it to create connection to others. To invoke the teachers we all have inside. To let us be able to hear the intuition and follow that compass to things that set us a-light.
Incidentally, this is the ninth blog post this year that has been posted under "Outside the Lines," the category that I created to share my spiritual growth process and pieces of my transformation story. Nine months is the gestation time for a human. Nine months I have been growing me. I had asked "Who am I?" after a powerful trip to Guatemala earlier this year. "Who am I in relation to others?" is something that trip asked me back. So I carefully considered what I needed to do to get those answers, and planned the summer road trip to get them.
But I hesitate to use the word "pilgrimage" although it is indeed what the road trip became. I kept referring to the time as "a blessed summer."  I just knew I had to do it. I just knew that I didn't want to leave the question of "Who am I?" unanswered. But saying that the trip had spiritual significance isn't exactly what I want to remember it as; saying that I spent the summer growing the relationship I have to myself through the fire I have inside is. And now it's time to birth the new version of who I am.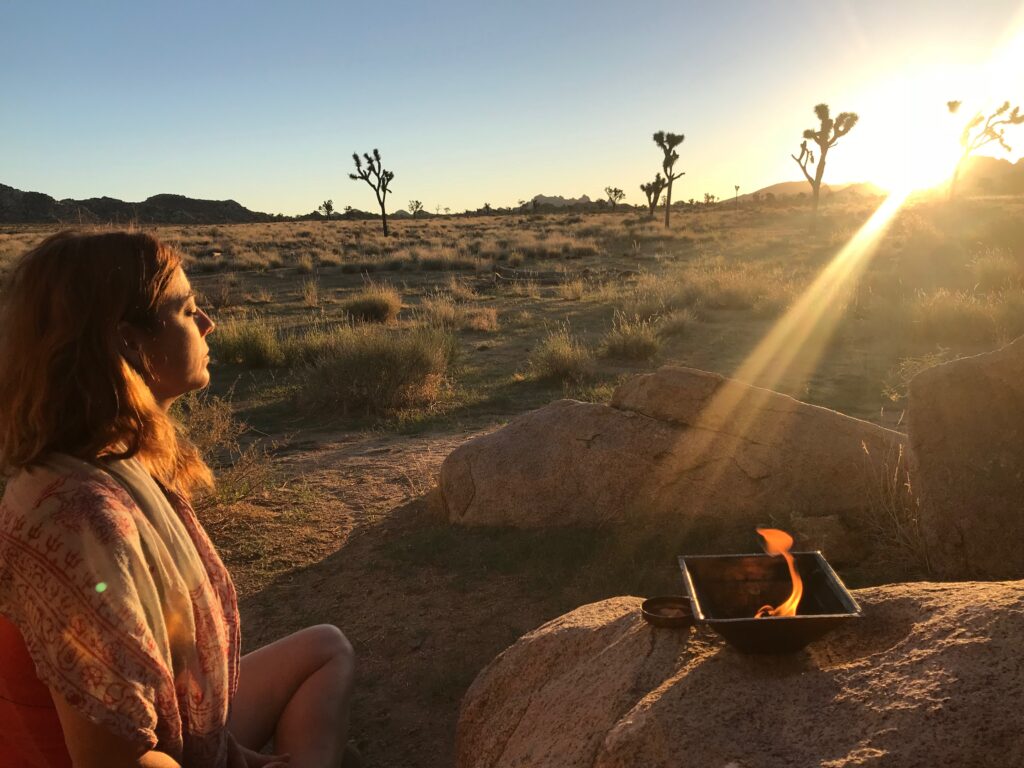 Homa at sunrise in Joshua Tree
I've decided to stay in the desert for some time and allow for more exploring inside. I know, too, that many people spend time in the area around Joshua Tree and have profound experiences within themselves. It's as if the sacred land is a catalyst for the power that can be unleashed inside all of us, the fire that we all have inside. And each morning, the sun wakes me up. I can feel it before it breaches the horizon. The presence calls me out of sleep to wake. By burning brightly from within, I can engage in the world in a joyful way, the way I want to be in the world.
This is the same but different version of me, lying on the floor at Lupe Station in Kingston.
Here's a poem I wrote one morning as I laid on a bed in a furnished house I rented in Joshua Tree:
The sun woke me up today; the rays were like a friend's skilled hand, a presence with familiarity, playing some celestial rhythm; and in the music: light waves moving through the space, dancing on my eyelids, encouraging me to open them, inviting me to another day of life n' play… // and then I went outside. // Let's see what happens.
***
https://anastasiawasko.com/wp-content/uploads/2022/07/awlogoblack.png
0
0
anastasiawritingediting
https://anastasiawasko.com/wp-content/uploads/2022/07/awlogoblack.png
anastasiawritingediting
2020-02-11 01:13:37
2023-03-09 02:42:40
Growing Through Fire